Apply an APN with Skylight
26 May 2022
This article explains what you can do when your Mesa 3 Windows (and possibly Mesa 2) will not automatically activate the cell modem.
Applying APN (Access Point Name) settings for your cellular network in Windows may be automatic when the SIM card is initially inserted and detected. With the sunset of 3G networks, some 4G LTE cellular modems may not be able to retrieve APN settings automatically. Some cellular modem models use a QMI (Qualcomm MSM Interface) API (Application Programming Interface) to apply APN settings which is no longer supported by Windows. The optional Sierra Wireless AirPrime EM (Embedded Modules) cellular modems that are used in the Mesa 3 Windows and Mesa 2 models may be affected by this. If so, Sierra Wireless provides their Skylight utility as an alternative for applying APN settings to establish a cellular internet connection.
You will need to obtain some of the following information specific to your cellular network provider and data plan to successfully apply an APN with Skylight. Not all service providers will have information for all fields listed here.
Name
APN
Proxy
Port
Username
Password
Server
MMSC
MMS proxy
MMS port
MCC
MNC
Authentication Type
APN type
APN protocol
Bearer
Use Skylight (build 4814) to manually set an APN and create a connection to your cell network. To complete this process, you will need information from your cellular service provider that is unique to you.
Download and open Skylight using sierra-skylight-4814.exe.

Verify the build number.

Tap the Menu icon.


Verify you are using (build 4814).
Note: The Skylight build number is very important. Please use the download file we have provided to obtain Skylight. Do not use Skylight from an app store because it will simply repeat the error that you are trying to solve.
Tap the Wrench icon.


Tap Profiles.


Tap the Globe icon.


Tap the default service provider. (In the picture below, the default is AT&T Mobile.)


Tap Username and enter the information from your provider (this is usually a website).


Tap APN and enter the information from your provider.


Tap Authentication and enter the information from your provider.


Tap OK.


Tap Connect. (If the green button says "Disconnect" you are connected.)


Possible Firmware Error
In some cases, you will get an error message indicating that Skylight cannot upload the firmware. If this happens, please follow the instructions Cellular Modem Troubleshooting on Mesa 3 Windows under the heading "Possible Firmware Update." The following picture shows the firmware error (in German).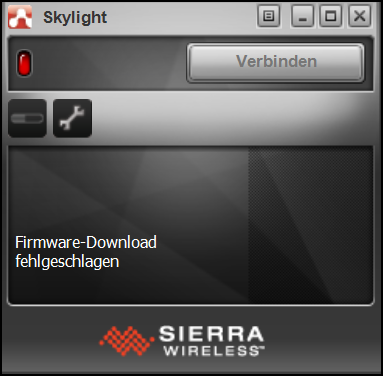 Approved: OS, JL, 14Jul2022