TALtech CE-Wedge
9 Jun 2009
The TALtech CE-Wedge software provides a method to allow input of data from a device connected to the serial port of the Field PC, and then automatically enter the data into any text field of a software program currently containing the cursor. For a more detailed explanation and alternative solutions, please visit our Wedge Software for the Field PC FAQ webpage. Additional information is available at:
http://www.taltech.com/PDFdocs/new/CE_Wedge.pdf
http://www.taltech.com/PDFdocs/ce.pdf
Install Instructions
To install the TALtech CE-Wedge program on the Field PC, follow the steps below. We recommend printing a copy of these instructions or reading through all of the steps before beginning.
Download, copy, and run the Embedded Visual Basic (eVB) Runtime install file named "msvbppc.armv4.cab" on the Field PC (download from our website). Recommended to install to default directory ("Main Memory" or "Device") and tap "Yes to All" if asked to overwrite files.

Download, copy, and run the correct file from the table below for your model Field PC.
Running CE-Wedge on the Field PC
You can run CE-Wedge by tapping on the Field PC`s Start menu > Programs > CE-Wedge menu option. The CE-Wedge program appears, as shown below.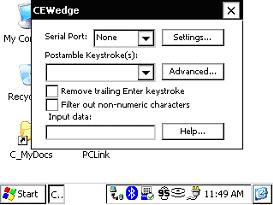 The user guide for your serial device should state how to trigger the ASCII text data output through the RS-232 serial cable; and explain what baud rate, parity, data bit, stop bit, and flow control are required to be setup (or how to change these settings). The most common settings are shown in the table below.
| | |
| --- | --- |
| Baud Rate | 9600bps |
| Parity | None |
| Data Bit | 8 |
| Stop Bit | 1 |
| Flow Control | None |
Purchasing CE-Wedge and unlocking the full version
After 30 days, the demo version of CE-Wedge will expire if you do not purchase and unlock the full version. To purchase and unlock the full version of CE-Wedge, follow these steps:
Run CE-Wedge on the Field PC.

Tap on the words "Serial Port:" located to the left of the serial port drop-down box on the main CE-Wedge window, as shown below.


A "CE-Wedge Demo" window will then appear.


Write down the Unique ID number, and use this number to purchase CE-Wedge from http://www.taltech.com/products/pricing.html. If you have previously purchased CE-Wedge, contact support@taltech.com or call 800-722-6004 your current Unique ID number.
Enter the unlock key, then tap OK.
Backing up the Field PC
Methods and instructions for backing up the Field PC to better avoid any potential need to re-install or re-register software, please visit our System Backup of the Field PC FAQ webpage.
Contact TAL Technologies, Inc.
800-722-6004 Main
215-496-0222
Tech: 215-496-0202