WMDC in Windows 10
16 Aug 2018
Note: This information is provided as a reference and does not imply that Juniper Systems will provide full support for the use of any specific third-party software.
Microsoft officially ended updates for Windows Mobile Device Center (WMDC, formerly ActiveSync) with Windows Vista in 2008. For newer operating system versions, if possible it is highly recommended to use an alternative. We now offer our Mobile Connect utility as described at the following web page.
Mobile Connect by Juniper Systems
Other alternatives are also available. Otherwise, WMDC may not work in newer Windows versions, particularly Windows 10 version 1703 (Creators Update) OS Build 15063 or newer. If you absolutely need to use WMDC in a newer version of Windows, some possible methods to get it to work are as follows.
An abbreviated summary of a common method used to get WMDC to work requires running our WMDC-fixes-for-Win10.msi patch utility (below), uninstall WMDC (both the driver update then main app) if already installed, use Task Manager to end task on the two WMDC processes, use msconfig (System Configuration) to stop the two WMDC services, Restart, manually delete the entire C:\Windows\WindowsMobile folder, re-install drvupdate-amd64.exe from our website, manually launch WMDC, connect cable, and then wait usually up to two minutes the first time connecting.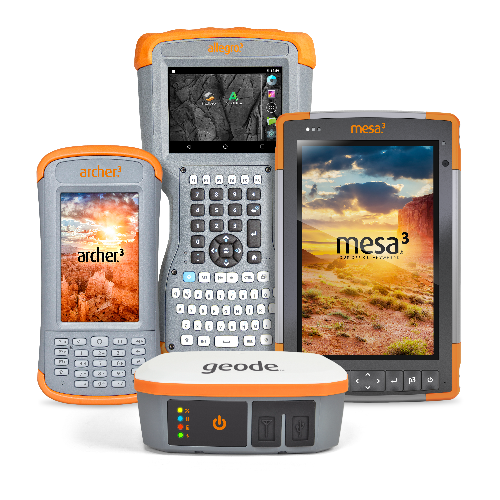 Looking to replace your existing Windows Mobile device?
Juniper Systems manufactures a variety of rugged handhelds and tablets running Windows Mobile, Windows 10, and Android operating systems.
Learn More
Feb 2018
After installing Microsoft Windows Mobile Device Center (WMDC), formerly ActiveSync, in the Microsoft Windows 10 operating system, you will likely also need to run the following utility to get it to function fully.
Full instructions for this utility are provided in this document.
Nov 2017
If you are installing WMDC for the first time in a new installation of the latest Microsoft Windows 10 Fall Creators Update (Version 1709), or if you fully uninstalled WMDC before updating to Win10 Fall Creators Update, follow the instructions and use the file links in the following document.
How to Install Windows Mobile Device Center on Windows 10 Fall Creators Update (Win10-1709-WMDC-Install.pdf)
If you are still using a previous version of Windows 10 (or if you still had WMDC installed and it stopped working after updating), please proceed as described below.
Apr 2017
After installing WMDC, save the following file to a location on your desktop PC, locate the file through File Explorer, and then right-click on the file to "Run as administrator" (even if you are already logged in as an admin).
If you had WMDC installed and it stopped working (such as after a Windows Update) or before being successful at installing WMDC for the first time, you must first manually enable the required .NET Framework 3.5 under "Turn Windows features on or off" and/or by using the previous dotNetFx35setup.exe installer from Microsoft.
We highly recommend that you run the 64-bit drvupdate-amd64.exe or 32-bit drvupdate-x86.exe installer as an Admin and in "Compatibility Mode" for Windows Vista if WMDC and the required drivers do not successfully install automatically through the Windows Update service when you connect USB. Sometimes after a Windows Update you may need to run this again to get WMDC working again.
After install and once "Windows Mobile Device Center" appears in the list under the Start menu on the desktop PC, similar to as is automatically applied by our "WMDC-Helper.exe" utility referenced above, you may need to run Windows Powershell as an administrator to apply the following registry commands, and then perform a Restart.
REG ADD HKLM\SYSTEM\CurrentControlSet\Services\RapiMgr /v SvcHostSplitDisable /t REG_DWORD /d 1 /f
REG ADD HKLM\SYSTEM\CurrentControlSet\Services\WcesComm /v SvcHostSplitDisable /t REG_DWORD /d 1 /f
This is less likely, but you may additionally need to open "Computer Management" as an Admin to view Services and Applications > Services to change the Properties of the "Windows Mobile-2003-based device connectivity" and "Windows mobile-based device connectivity" services to Log On using "Local System Account", and then Start each service. You may sometimes need to re-apply and Start these again when re-connecting device or after performing a Restart on the PC.
Even if you are not able to get WMDC to show it is connected, you may still be able to browse the contents of the device through File Explorer (which will appear as a drive under "This PC") or synchronize anyway.
There are many other historic causes of issues with installing, running, and connecting to WMDC which could still be encountered, such as are described at the following web pages.
July 2015
The desktop installer for Microsoft Windows 10 may suggest that Windows Mobile Device Center (WMDC, formerly ActiveSync) is not compatible and must be uninstalled. This is as shown below.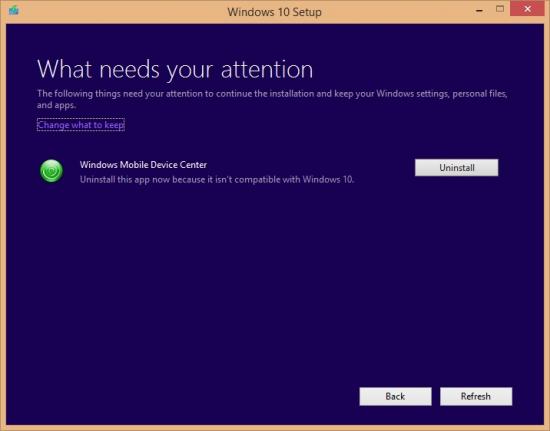 Though the Microsoft Windows Compatibility web page states otherwise, as shown below.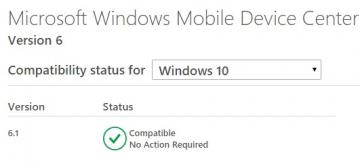 Installing Microsoft Windows 10 using an ISO image instead does not seem to require the re-installation of WMDC after OS upgrade as does the desktop installer. Also, tests so far have shown that WMDC seems to work as well in Windows 10 as it did in Windows 8, 7, and Vista. Some known issues may still apply.
If you have been forced to download and re-install WMDC in Windows 10, it is recommended to use the 32-bit or 64-bit links at the following web page.