Clearing the TPM (Trusted Platform Module)
27 Jul 2017
Clearing the TPM (Trusted Platform Module) is described at the following web page.
https://technet.microsoft.com/en-us/library/cc753694(v=ws.11).aspx
Sometimes this will appear when performing a Start > Settings > Update & security > Recovery > Reset this PC. When this occurs, you must attach a USB keyboard then Restart. When this appears again, you can then use the keyboard for arrowing between the Yes and No options, and pressing Enter while highlighting a selection. Update Jan 2018 - Installing UEFI version 25 or higher will allow the built-in keypad buttons to work with this prompt in the future.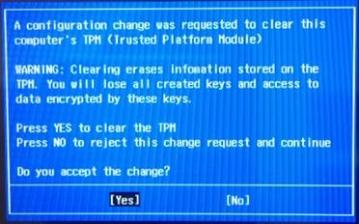 If you are not sure which selection to choose, then select No just to be safe. Select Yes only if you are intentionally wanting to clear the TPM.