Old charger will not charge newer product model
21 Dec 2020
Some content updated 21 Dec 2020, original article from 28 Apr 2016:
The Mesa 3 requires a 12V @ 30W or higher output power supply, like the charger that comes with it as shown below. The Mesa does not charge through USB. Further details are provided below, including for other models.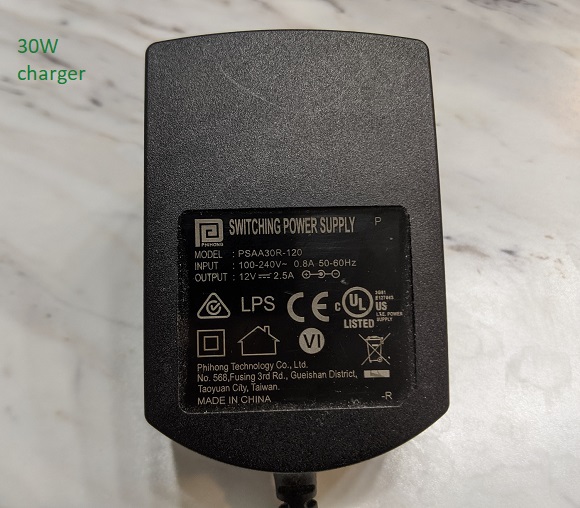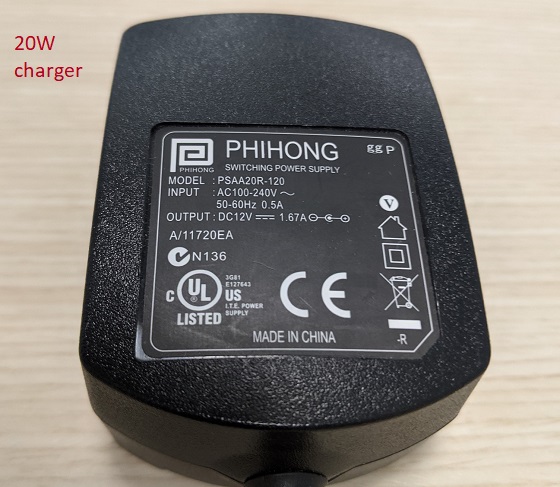 Our rugged handheld computer products have all shared similar wall chargers. As we have introduced new product models, the only real change with the wall charger has been how much electric current can potentially be output at maximum from the charger. Each generation of our products has provided bigger batteries that can charge faster, thus requiring a higher maximum output from the charger.
Using an older charger with a newer product model may not provide enough power to allow the battery pack(s) to charge (at least not at a fast enough speed to complete charging within a reasonable time frame). It is recommended to only use a newer charger with a new product model. The newer wall charger should be able to be used with older products as well.
The following is a list of the wall charger models that have been provided with our rugged handheld computer products, in order from newest to oldest.
Phihong PSAC45W-120 (45W) - Optional for use with Office Dock for Mesa 3 and Mesa 2. Compatible with all dock and handheld models.
Phihong PSAA30R-120 (30W) - Shipped with Mesa 3. Backwards compatible with previous model rugged handhelds.
Phihong PSAA20R-120 (20W) - Shipped with Mesa 2, Allegro 3, Archer 3, as well as later Allegro 2 and Archer 2 units.
Phihong PSA18R-120P (18W) - Shipped with previous Allegro 2 and Archer 2 units, as well as TK6000 and original Mesa.
Phihong PSM12R-120 (12W), PSM11R-120 (11W), or K-Tec - Shipped with original Archer and all previous Allegro models.
Our oldest Allegro chargers (which output 12V at only up to 0.8A or ~10W) will not be able to put out enough juice to run and/or charge our latest product models.